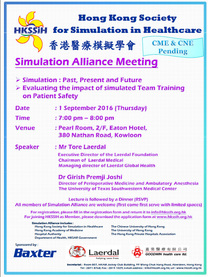 Annual General Meeting and Simulation Alliance Meeting - 1 Sep 2016

Date: 1 Sep 2016
Time: 1830 - 1900 AGM (HKSSiH Member only)
1900 - 1930 Lecture: Simulation pass, present and future - Mr Tore Laerdal
1930 - 2000 Evaluating the impact of simulated Team Training on Patient Safety - Dr Girish Premji Joshi
2000 - 2300 Dinner
Venue : Pearl Room, 2/F., Eaton Hotel, 380 Nathan Road, Kowloon

---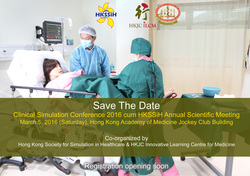 2016 Scientific Meeting - 5 Mar 2016
Venue: Hong Kong Academy of Medicine
Speaker: A/Prof. Josh Hui (UCLA)
Dr. Wang Ailing (Wu Han University HOPE School of Nursing)
Dr Mark Wen (Taiwan Society of Simulation in Acute and Critical Care Medicine)
Local speakers.
Content: System integration
Debriefing
Scenario design
Research
Technicians (e.g. Trauma make up
click here to download the conference ebook
---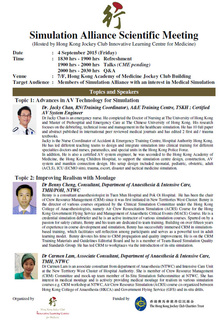 Simulation Alliance Scientific Meeting - 4 Sep 2015

poster
Advances in AV Technology for Simulation
by Jacky Chan
RN(Training Coordinator), A&E Training Centre, RHTSK, Hospital Authority; Cetified AV system engineer.
Download powerpoint handout
Improving Realism with Moulage
by Dr Benny Cheng
Consultant, Department of Anaesthesia &Intensive Care, TMH/POH, NTWC
& Dr Camen Lam
Associate Consultant, Department of
Anaesthesia &Intensive Care, TMH, NTWC
---
---